MOSQUE DESIGN CONCEPT
The Mosque front will be on Windmill lane
Three entrances main entrance on Windmill lane
Second entrance on Trafalgar road for Men
Third entrance rear elevation of Mosque for Women
A disabled ramp to entrances for wheelchair access
Car parking spaces for 52 cars including disability parking
Parking for motorbikes and Bikes
Mosque outside features will be on a theme of a purpose built  Mosque
4 Minarets a Dome  window arches and Religious Calligraphy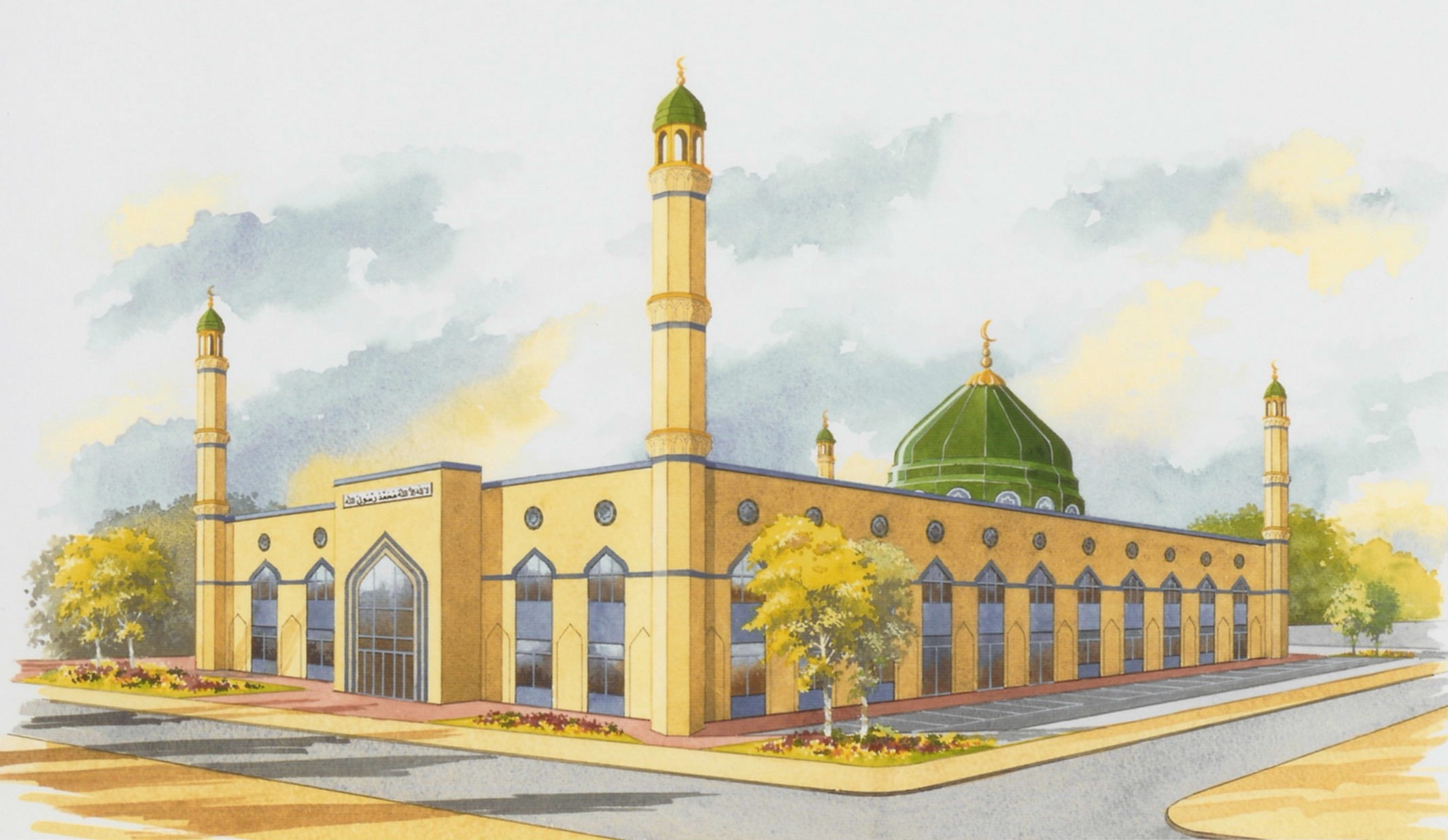 GROUND FLOOR FEATURES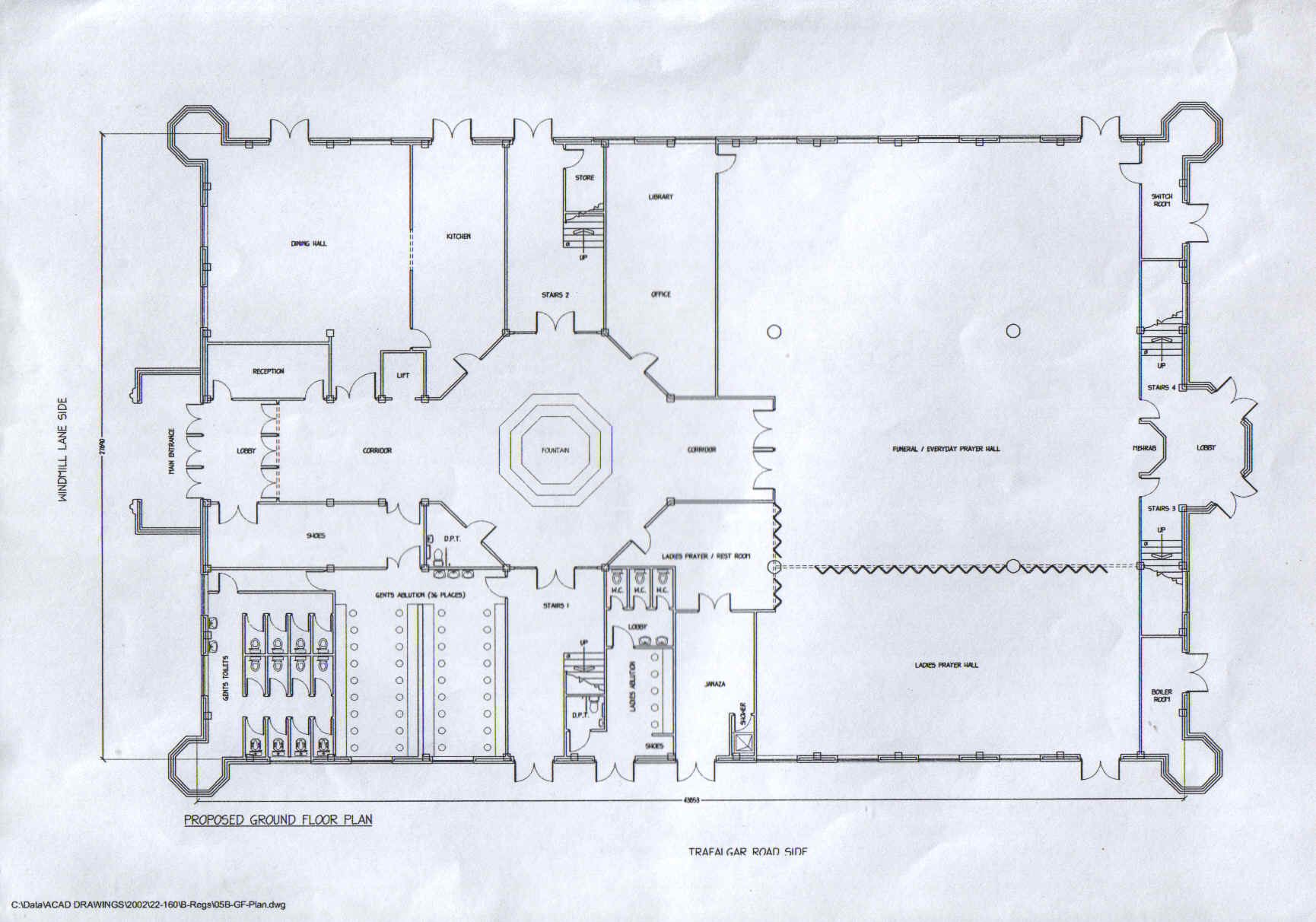 ABLUTION AREAS
Ablution area for men will accommodate 40 people at one time
Fifteen toilets of which 5 are Arabian style, 10 English style and a disable toilet
Shoe rack area will be situated before the lobby
Ablution area on second floor for women will provide 4 toilets and a disabled toilet
10 places for ablution at a time
A separate shoe area and entrance to the lobby
LOBBY AREA/ RECEPTION AREA
The lobby area will have a feature of a fountain for a calming and soothing effect on your spiritual mind. It will have flowing water and glowing religious calligraphy.
The reception area near the main entrance will have an office for administration purposes and to deal with any inquiries.
DINING HALL/KITCHEN
The dining hall and kitchen will be used on Islamic events such as Gyarvih shareef,
Milaad un nabi, Islamic seminars and during Ramadan for opening fasts (Iftari) and at funeral times. There is also an access area for disabled people to use both floors with the aid of a lift.
We will have second kitchen next to ground floor to serve on larger events as well and will also on second floor for women area have serving area as well.
LIBRARY
A library will be also situated on the first floor, to provide Islamic literature and computers for the community of Smethwick.
FUNERAL FACILITIES
A Mortuary room complete with a freezer, shower and Ghusal area to prepare the bodies in according to the Islamic Sharia.
PRAYER AND FUNERAL HALL
The every day prayer hall will be situated at the front of the Mosque complete with a Mehrab, a quarter of the hall can be used to seat the women behind dividers for privacy. Capacity for men and women in this prayer hall at one time approximately 1100. The corridor behind the Mehrab will be used at Funeral times to see the face of the deceased.
FIRST FLOOR
Five classes for religious education, for boys and and Large Library accompanied by toilets and ablution areas.
Main hall to provide seating for another eleven hundred people at a time.
A third floor will be added in the future when the time and need arises for our community.
SECOND FLOOR
Five classes for religious education, for girls and
accompanied by toilets and ablution areas. Large hall for women with over looking balcony on too main hall and dome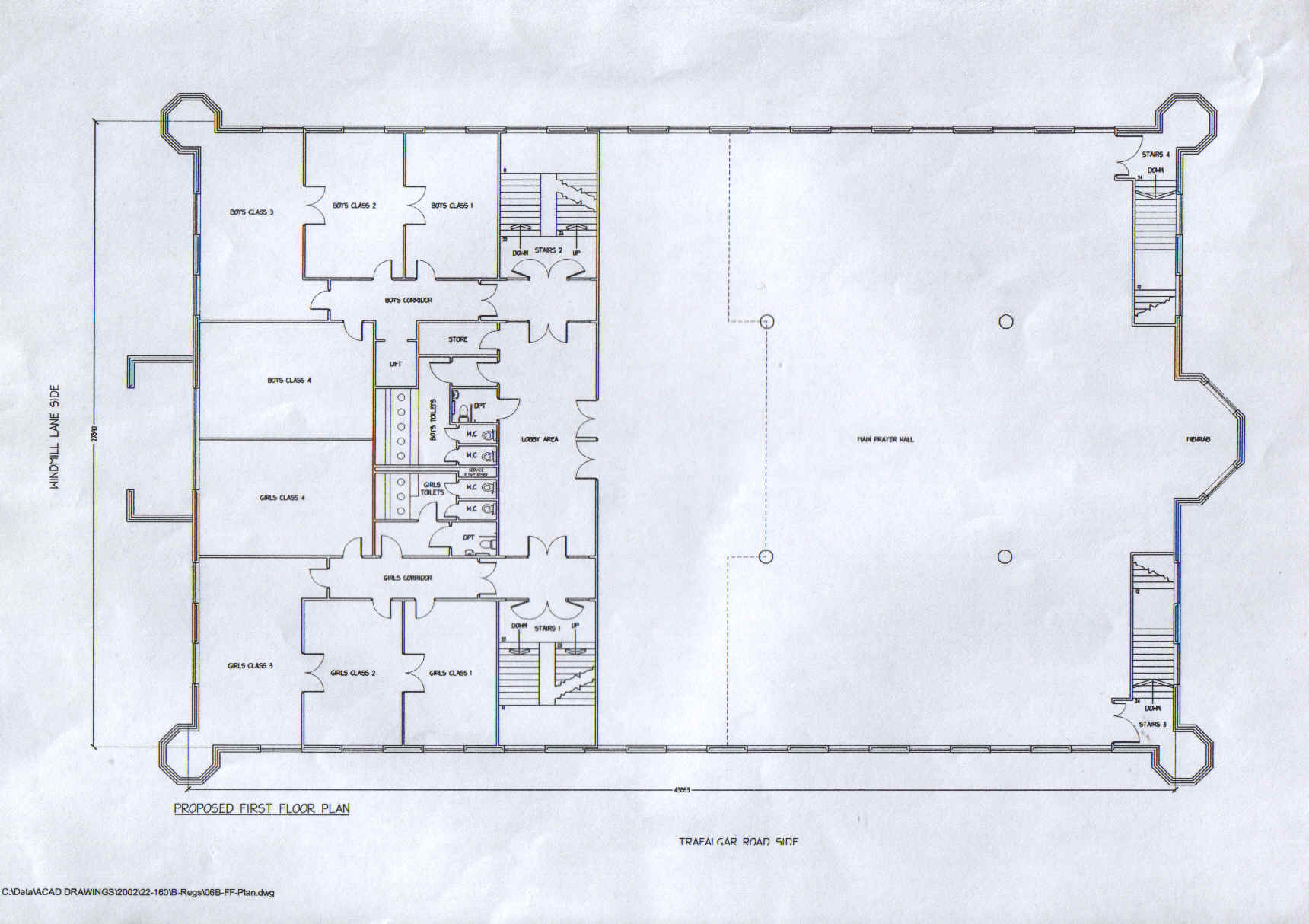 SECOND FLOOR